It's never too late! Our courses are specifically designed for adults aged 19 and over returning to study, either after a break or as part of a career change. They offer a proven and successful route to university study.
Key facts.
Full-time (2 days) studied over one year
Specifically designed for adults aged 19+ without traditional qualifications
A fast-track route to university
Level 3 qualification
Relevant to what you want to do
Student loans are written off when students complete a degree
Kendal College offers four Access to Higher Education pathways.
These programmes help build confidence and give you the subject specialist knowledge and study skills to provide entry into a range of college and universities.

We have an excellent track record of students achieving their first choice university - over the last 3 years, 85% of our students progressed on to their first choice university within a year of completing the course - and our students are fully prepared and know what to expect from university life upon leaving the college. Facilities at Kendal College are industry-standard with state-of-the-art equipment to provide practical experience, combined with teachers who are the industry experts in their field delivering high-quality academic tuition.
The Health & Human Sciences pathway is a stepping stone to all branches of nursing, paramedic science, occupational therapy, social work, nutrition, physiotherapy, forensic psychology and more.
The Sciences pathway can lead on to careers such as engineering, marine biology, microbiology and nuclear physics.
The Humanities & Social Sciences pathway can lead to a variety of degree programmes including; Psychology, Sociology, History, Languages and Linguistics.
The Policing & Criminology pathway is excellent preparation for people who wish to change their career and prospects.
Advanced Learner Loans
You can apply for an Advanced Learner Loan to cover the cost. The loan is easy to apply for, doesn't involve a credit check, and you don't have to pay it back until you've finished your course and are earning over £25,000 a year. If you are completing an Access programme, Student Finance England will 'write off' your loan once you complete a degree-level course. This means you don't have to repay it!
There is also financial support to help with the costs of coming to college e.g. transport and childcare. Find out more information about the Advanced Learner Loan and Bursary Funds here.

Meet one of our tutors, Sarah Spibey!
Meet your tutor
Steve Richardson
Before becoming a lecturer, I worked for 18 years in industry firstly as a Government Scientist measuring air pollution and later as a Consultant and Manager. I became an advisor to the UK Government and European Commission, helping to write the technical parts of the EU and environmental protection directives. I teach the science components of multiple different courses, including A-Levels, Access to HE and BTEC. I teach because I love to play a part in students' progression onto university study and into exciting and specialist careers. I am excited to see the positive impacts they will have on their chosen career paths.
Read more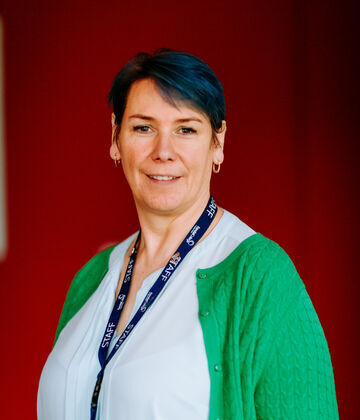 Meet your tutor
Debbie Kavanagh
Debbie Kavanagh is a Lecturer in Health & Social Care at Kendal College and is positive about the broad range of opportunities that are available in the industry today. "The sense of reward and achievement from knowing that you've helped someone is a fantastic feeling and I consider myself to be in a privileged position to support students start their careers in this fascinating, unpredictable, but extremely rewarding sector."
Read more