The Performing Arts department at Kendal College is widely respected throughout the country, with a strong record of propelling talented creative students into performance and creative careers. We make no excuse for having some of the highest success rates in the country and students who follow their dreams.
The Royal Central School of Speech & Drama, LAMDA, The Royal Scottish Conservatoire, East 15, Leeds School of Dance, and LIPA are all home to some of our former students training to be actors, musical theatre performers, dancers, directors and theatre creators. Many have also studied BA Honours in other creative subjects such as journalism, creative writing and events management at top city universities, including Birmingham, Manchester and Newcastle. Areas like media production, film & TV studies and teaching can all be relevant to a pathway that starts with performing arts.
Our YouTube playlist
Hear from our students, tutors & alumni on our Performing Arts playlist.
Navigate through the films by clicking on the top right icon!
Photo gallery
Performing arts students are given a thorough grounding in the core skills in acting and dance, including voice, movement & singing, through classes and workshops exploring, for example, Stanislavski, Michael Chekhov, Theatre for Young People, Commedia Dell Arte, vocal technique, contemporary dance, jazz dance and group improvisation. The skills required for screen and audio work are introduced and developed.
This is a convenient course where you will be taught by industry professionals through a series of performance projects, from creating a scare event for Halloween to an evacuation role-play day for primary schools to full-scale musicals and contemporary dance performances. You will be stretched, challenged and supported to be as strong a performer as possible to progress to drama/dance school, university or professional work.
Placements, industry workshops, and trips to see West End musicals and live theatre are also integral parts of the course.
Performing Arts utilise dedicated performance spaces, The Box and the Wildman Street Studios, which boast top-of-the-range technical facilities and industry-standard equipment specially designed to host theatre and events.
I am a really practical person and didn't want to study Dance and Drama sitting down in classrooms. I love the bond you get with your classmates; you are always working together with lots of different people, it's just so nice.

Evie Frost, Performing Arts Level 3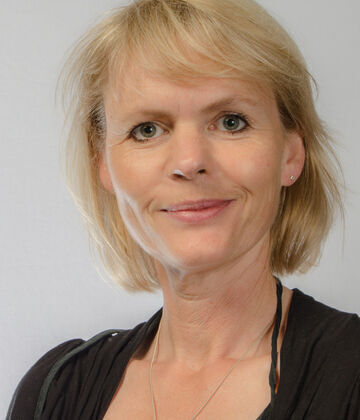 Meet your tutor
Hilary Pezet
I am fascinated by training young actors to find new ways to play characters and to access the truth of a role. Helping students apply the theory to their training is what makes a performance come alive and it's always satisfying to see theoretical work applied in practice. The students inspire me to teach.
Read More