Kendal College Music department provides the ideal balance of music performance and technology. A modern working musician needs a unique set of skills to support their creative outlets.
Whether you're a budding songwriter looking to record your material, an instrumentalist or vocalist hoping to work in bands, an aspiring live sound engineer, want to compose music for TV and film, or a performer looking for a variety of stage experience, feel most at home behind the desk in a recording studio or are still looking for your musical direction, Kendal College's industry trained professionals will help you on your path.
Our YouTube playlist
Hear from our students, tutors & alumni on our Music playlist.
Navigate through the films by clicking on the top right icon!
Photo gallery
Our industry-standard studio has the essential feel and vibe to promote creativity and freedom of expression. The control room is equipped with a 32-channel Midas desk, three sets of studio monitors, a wide range of professional microphones and an iMac with Studio One software, which we use for recording various instruments and vocals in our three acoustically treated live rooms. Our four soundproof booths have rehearsal P.As, guitar and bass amps, stage pianos and electronic drum kits. Booths are free to book out at any time. Our in-house venue boasts a concert-size P.A., Midas digital desk, a lighting rig, and a full live band set-up, including valve amps, stage pianos and acoustic drum kits. This allows our learners to perform as often as they like. Two dedicated iMac rooms enable students to compose, mix and master using top-of-the-range recording software.
Many of our Music students progress to higher education institutes nationwide, including LIPA, London College of Music, Leeds and BIMM (Manchester). There are also opportunities to progress at Kendal College. We offer HNC/D courses (equivalent to a degree) for those who prefer the college environment. The College is renowned for producing raw musical talent, with many past students achieving national and international success. Our students go on to study a wide range of subjects, including performance, events management, music technology, theatre, journalism, composition, teaching, music therapy and psychology. For those who don't see themselves taking an academic route, our skills-based learning programme and work experience scheme will provide you with the necessary skills to enter the music industry in your chosen field. The entertainment industry generated £17bn in revenue last year; this is your chance to join a sustainable and growing marketplace with various career paths and job opportunities.
Full-time, part-time and degree-level courses are available to study Music at Kendal College.
Follow our Music department on social media!

Doing what you want to do is the best choice. Choose what you love, I'm glad I did. I like the atmosphere of the building and I get on well with the other students. The facilities, the teaching, the atmosphere, it's been a great experience and I've learned a lot. I want to go to university and the course is helping me get the skills I need.'

Sebastian Harper, Music Level 3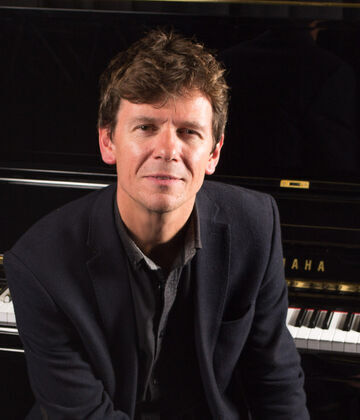 Meet your tutor
Geoff Orr
The key ingredient to being successful in any chosen career is to enjoy it, so it's great that students can come to College after school and really enjoy their education with us. As with any career in the creative industries, being able to perform to a high standard is essential and it's so very rewarding to watch students develop and grow in confidence as musical performers and songwriters.
Read More
View our courses
Music Technology (Perform, Create, Record)
Part-time
1
6th Feb 2024
14 Weeks
Learn about the basics of sound recording, mixing and editing on this exciting and practical course based in Kendal College's professional recording studio and Mac suite. You will learn about microphones, mic techniques and using music software whilst also having the chance to record yourself and others.