The UK is widely recognised as one of the world leaders in science in sectors like bioscience and pharmaceuticals. Hence, opportunities are plentiful for students interested in pursuing a career in the applied sciences.
Often a stepping stone for progression to university, courses are hands-on, with students developing careers in fields like radiography, pharmaceuticals, medical or chemical engineering to working with the police in forensic science, psychology, and criminal and fraud investigation roles.
Our YouTube playlist
Hear from our students, tutors & alumni on our Sciences & Forensics playlist.
Navigate through the films by clicking on the top right icon!
Photo gallery
Students benefit from learning in a purpose-built scientific laboratory with state-of-the-art IT facilities. Courses have a vital practical element, and numbers are limited to ensure every student can access all of the available specialist equipment.
A big part of the Kendal College experience is the chance to benefit from away days, research trips and overseas travel opportunities to enhance learning. From working on mock crime scenes in UK forests to touring the largest particle physics laboratory in the world at CERN (European Organisation for Nuclear Research) in Geneva, there will never be a dull moment in an applied science course.
Full and part-time courses in the applied sciences are available at Kendal College.
I wasn't a big fan of Science at school but it's interesting now and we cover a lot. All the tutors are really supportive.

Jamie Howell, Forensic Science Level 3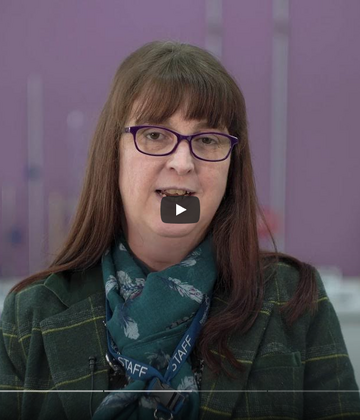 Meet your tutor
Sarah Spibey
I have worked in the criminal investigation and teaching fields for many years and I relish passing the knowledge down to the next generations. Learners will study fascinating subjects, receive first-hand knowledge of working with offenders, conduct simulated crime scene and criminal investigation practical experiments and develop analytical skills.
Watch more
View our courses
Full-time
3
1st Sep 2024
2 Years
A practical course designed for anyone who is interested in medical science. You will learn the science behind medical development and practice, including physiology, body systems, genetics, microbiology and practical laboratory techniques.
Forensic & Criminal Investigation
Full-time
3
1st Sep 2024
2 Years
This is a course ideally suited to anyone aiming to pursue a career with forensic psychology, criminology, policing, forensic science or criminal investigation. Study areas include criminology, forensic and criminal psychology, policing, fire investigation, road traffic investigation, forensic anthropology and scientific techniques. You will develop the analytical, evaluative, practical and interpretation skills to progress to university or work within forensic and criminal investigative fields.